What Can Massachusetts Businesses Do to Prepare for a Resurgence of COVID?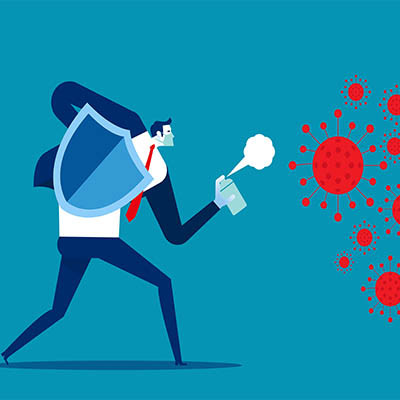 With COVID cases back on the upswing here in Massachusetts, it may not be a bad idea to revisit and reevaluate how prepared your business is to manage operations as the state closes back up. Whether you had certain practices in place last time or not, you don't want a lack of preparation and due diligence to be the reason your business fails now.
Let's go over a few measures you want to be sure you have in place before the time comes that you need to alter your business processes once again.
Increasing Your Focus Online
When your customers and clients can't come to your place of business, you want to be sure you have another way for them to have access to you and your services. This is where a good business website will be worth its weight in gold. Without your actual business to turn to, your clientele will be more likely to turn to your website for their needs. That means you want to make sure it is up-to-date and functional with the tools that will let them reach you and your team members more expeditiously.
Update Your Defenses
Whether your team is in the office or not, cybersecurity should always be a big concern for Massachusetts businesses. Working from home can complicate this slightly if your employees are using personal devices or the family computer to work. Ensuring that your staff has a reliable method for remoting into the office through a secure VPN is a critical step, but you also need to reinforce the importance and require your team to use it whenever they are working with company data.
Many threats nowadays come in through email and other communication services via phishing. In fact, cybercriminals have been using the pandemic to their advantage by dishing out phishing attacks that look like COVID-19 alerts and vaccination information, as well as other reprehensible traps. It's easy to fall for phishing attacks, and your best line of defense is educating your staff about them, and encouraging them to reach out to your tech support if they suspect a message is a fraud.
Establish a Business Continuity Plan
While nobody likes to think they'll be impacted by a disaster of any scale, it's better to be prepared for something that never happens than to have never prepared for something that does. Creating a business continuity plan that outlines how your business will adapt to various situations—widespread health concerns included, along with things like fires and electrical storms—will better allow you to adjust your operations to fit your circumstances. As its name suggests, the purpose of such a plan is to help you keep your business functioning as consistently as possible.
Enable Connectivity
With the situation being what it is, chances are that at least some of your team members may very well find it more effective to work from home. In order for your business to allow this, however, you need to have sufficient bandwidth to transfer all this data in an effective way. Many of your processes will require online productivity solutions in order to be carried out. Remote workers will also need the tools that can keep them in touch with each other and your clientele, and as a result, would benefit from communicative solutions like cloud-hosted VoIP (Voice over Internet Protocol) and video conferencing.
With these preparations in place, your business will be much better equipped to deal with the workplace restrictions that necessary health measures dictate. We are here to help you make these preparations and assist you in managing the technologies required. To find out what you can accomplish with us, give us a call at (774) 213-9701.
Comment for this post has been locked by admin.
By accepting you will be accessing a service provided by a third-party external to https://www.datalyst.net/