Why Your Business Needs a High-Speed Internet Consultation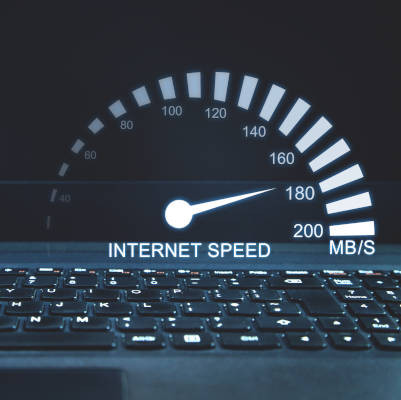 As face-to-face communication continues to be on the back-burner, tools such as your website, social media, and other online conferencing solutions allow your business to remain in the public eye. Yet, as you rely on more bandwidth to continue to be productive, you may find you aren't as productive as you like. Now is the time to consider a high-speed internet consultation to determine where the bottleneck in your productivity lies.
When it comes to high-speed internet consulting, if your provider tells you how much bandwidth you need without first understanding your business, typically accomplished through an audit, you should consider another provider. While "how much bandwidth does my business need?" is one of the most common questions a business may ask, unfortunately, it is not a simple answer.
At best, at least before you have an audit, your answer will be, "it depends." It depends on how many people you have in the office, how much data you store in the cloud, what your peak usage will look like, and many other factors. Each of these factors will impact the amount of data you have flowing to and from your office and which level of service tier you should invest in.
For example, due to social distancing, you may be relying on video conferencing to communicate with your team and clients. Video conferencing, especially at higher resolutions, can consume a lot of bandwidth. Before you can express your needs during a high-speed internet consultation and answer the question of need with any clarity, it's helpful to understand the services which define what high-speed internet (broadband) is and how your business interacts with them.
If your staff is working remotely, they are likely dialing into the office network to access software and files. That can take a lot of bandwidth, and bottlenecks within your network can further hinder things.
Understanding How Connectivity Works
The first step in determining your high-speed internet needs is understanding how many users you will have, how they will be using your network, what programs they will use, and how often they will use them. Keep in mind that services like VoIP have high broadband demands too. Moreover, you will need to consider that your usage will not be fixed to a certain amount. For example, if you have virtual weekly meetings, your data use will increase during that time but drop during the rest of the week. However, it is critical that you have the amount of bandwidth you need to provide everyone with an excellent communication experience when you need to do so.
Data doesn't go in one direction. You have uploads and downloads (pushing information and pulling it down). When you complete a form requesting a whitepaper, you're pushing data, while downloading the whitepaper you asked for is pulling it. In this example, it's easy to see how little bandwidth it takes to ask for the whitepaper as compared to how much you need to receive it. Most ISPs consider this—usually they give consumers ten times more download bandwidth than upload. Business accounts can run a little differently, but if you are hosting a lot of data at your office, you'll need the upload speeds to handle it.
Run a Speed Test
One of the first steps a high-speed internet consultant will take in determining whether you need to increase your broadband is to perform a speed test. A speed test will give you a general idea of how much bandwidth you have access to and whether you have the upload/download ratio you need to be productive. While your consultant will have a wide range of professional-grade testing tools available, you can take advantage of several consumer level speed-testers such as speedtest.net. This tool and others like it will give you insights into your performance, allowing you to have a more informed conversation with your consultant.
A speed test evaluates three components: ping, upload, and download speed. We discussed upload and download previously, so let's focus on ping. Ping is a measurement of how quickly a computer responds to a request, for example, how fast it takes for a webpage to recognize that you clicked on a link.
A ping of 100 ms or lower is average, a ping of 20 ms and lower are exceptional, and a 150 ms is considered a 'high ping" and with it can follow delays in data transfer or lag. A high ping can be due to a few factors. These factors can include: the quality of your ISP (Internet service provider), improperly configured equipment (firewall, router, and modem), and of course, your bandwidth and internet connection speed.
Once you have corrected these issues, you should see more stability in your connectivity. However, this is just the first step. Next, you need to ensure you have enough capacity to provide your team and customers with the experience they expect.
How to Figure Out How Much Bandwidth Your Business Needs
The primary measurement you need to consider is that your internet connection will be split among the number of users you have using it. When determining how much bandwidth you need, it is critical to understand how it will be allocated. For example, if you have 50 Mbps (megabits per second) and ten users on-site, they will all share the bandwidth.
If everyone is performing bandwidth-intensive functions at once, such as participating in a video conference, this leads to an average of 5 Mbs per user. The next question you must consider is whether that will be enough for your purposes, and this is something your high-speed internet consultant can advise you on.
Basic web use (surfing and email) shouldn't use more than 2 to 5 Mbps to feel responsive. For simple video streaming, think Netflix, 3 Mbps should be sufficient for low quality video, but HD content requires at least 5-10Mbps. However, these days, most businesses rely heavily upon broadband to remain competitive and communicate with their customers. In fact, due to social distancing, many companies have turned to video conferencing as a means to compensate for their lack of face-to-face interactions.
As video conferencing can require closer to 10 Mbps to provide an excellent communicative experience, you must have enough capacity. In our scenario of 10 people sharing a 50 Mbps bandwidth, the 5 Mbps average won't be enough for smooth communication during a video conference. This could lead to low video and audio quality, such as lag, dropped frames, and sound loss. Sizing your bandwidth appropriately is essential to ensuring you can remain productive as you increase your use of online services.
The on-going crisis has caused many businesses to adapt on the fly, using the technology they had to 'get by' in hopes of a return to normalcy. However, the reality is, we are in the normal, a normal when your online presence is critical to your business' success. It's time to ensure that the primary method you have to communicate with your clients and generate leads for your business is operating at the best level it can be, and the best way to do so is with a high-speed internet consultation.
Don't Forget Wi-Fi
In addition to the previously mentioned factors which can impact your connectivity, you need to also consider the effect of Wi-Fi. While wired connections can be predictable, wireless connections, particularly those which aren't correctly configured, can cause a wealth of problems unique and separate from other issues. Issues of distance, location and even the thickness and materials of your walls can contribute to how effective your Wi-Fi connections are.
Moreover, due to the remote nature of Wi-Fi, you must ensure you have effective cybersecurity protocols in place or you risk your systems becoming compromised by a cybercriminal. It is critical that your Wi-Fi connections be secured to protect your network. When speaking with your high-speed internet consultant be sure they offer wireless site surveys and Wi-Fi infrastructure audits.
Internet Consulting Lets Your Business Get the Most Out of the Web
Southern New England businesses, now is the time to reconsider how you utilized the web in the past. The current crisis has changed how we all do business, and the Internet has taken on increased importance in our day-to-day affairs. If you want to be competitive, you must have an internet connection that's both fast and reliable. Yet as we have seen, many organizations and locations particularly in Western Massachusetts don't have access to either.
You need an Internet connection fast enough to provide your team enough bandwidth to perform at maximum capacity, is dependable, and doesn't go down when you need it the most, which these days is 24/7. Most importantly, you want to make sure your Internet provider understands your business' unique needs and doesn't recommend a cookie-cutter solution—one which leaves you under-powered or unable to grow.
Let Datalyst Be Your High-Speed Internet Consultant
Choosing the best broadband plan for your business requires more than just looking at the price. As we have shown, there are vital considerations you should keep in mind before you decide on a course of action. Fortunately, you don't have to decide on your own. Datalyst can find you an Internet provider you can be confident about; call us today at (774) 213-9701 to learn more.
Comment for this post has been locked by admin.
By accepting you will be accessing a service provided by a third-party external to https://www.datalyst.net/