Your Backup is Your Greatest Weapon Against Ransomware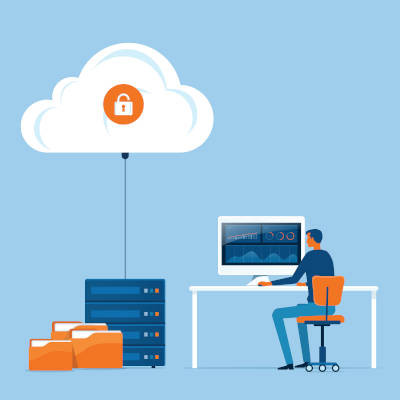 Are you backing up your data regularly? With ransomware attacks increasing, your backup is your best defense, but only if it's done right. Take a moment to see if you're following best practices to back up and retrieve your data in case of a disaster.
Ransomware Attacks are Increasing in Southern New England
Ransomware attacks are becoming a national threat as organizations across the country are locked out of their technology, and forced to pay to get access again. Ransomware is such a threat to Massachusetts businesses that the Massachuesetts state website has a dedicated ransomware webpage to inform Massachusetts industries of the danger of ransomware. Moreover, Massachusetts has some of the strictest data protection laws in the nation, with serious penalties to businesses that aren't compliant.
These laws make ransomware attacks something to pay attention to, as falling victim to one will have serious consequences to your business' survival, beyond just the costs of restoring your data (in cases where that's even possible).
Current ransomware attacks have attracted so much attention because hackers have been targeting organizations who provide much-needed services in response to the coronavirus crisis. These institutions include hospitals, schools, and manufacturers, which are, in many ways, all offering critical services and can't afford to lose access to their data.
It is this reliance on data that hackers count on, combined with weak security protocols that make many organizations unable to fend off a ransomware attack.
Of course, if your business doesn't fall under one of these industries, you aren't off the hook. As these threats spread, they often do so blindly, and don't care whether you are a small healthcare practice, a city municipality, or a struggling family business.
The last component in a successful ransomware attack is the lack of a backup.
Is Your Organization Backing Up Your Data Correctly?
When it comes to making a backup, many businesses believe that all they need to do is copy the files and documents they are currently working on into a USB stick or external hard drive, and they're done. While such a technique is acceptable for your personal data, it is a far cry from having a dedicated backup policy in place for your business.
An effective backup endeavors to collect all the information needed to get your business up and running as quickly as possible and in the same state before the disruption. This information must include system configurations, financial data, personnel records, administration documents, and of course, your work product. Even if your business is aware of what makes for a quality backup, you may fail in the execution for a variety of reasons:
Lack of Consistent Backups:
According to cybersecurity experts, only 41% of organizations are backing up their data daily. This can create significant gaps in information and recreate your data using only your backed up data.
Relying Only on Physical Storage:
You need to consider how your data is stored. Mechanical devices like hard drives fail. If all your data is saved to HDDs, it is not a matter of if, but when you will lose your data due to hardware failure. This is why services such as comprehensive IT support features a monitoring and maintenance component: so device failure can be planned for, and problematic components swapped out before they fail.
Not Verifying Backups:
Would it surprise you to learn that 60% of backups are incomplete and 50% of restores fail? Instead of assuming your data is backed up, take a moment to test your backup. If you aren't sure where to start, we can definitely assist you with that.
Lack of Automation:
If you have to remind yourself to make a backup, chances are, you're going to miss it. By automating your process, including the data's verification, you reduce the possibility of something going wrong.
Having a backup plan in place and following best practices is a step in the right direction. Not only will a backup plan protect your business from malware attacks, but also against any mishaps or disasters, whether man-made or natural. With all the uncertainty currently in the business world, your backup delivers peace of mind in times of crisis.
A Backup is Only the First Step
While businesses have gotten better at making backups a priority, they often forget about the second half of the process: data retrieval. If you are unable to recover your data, then your backup is of little use to you. Did you know that one of the first actions many ransomware attacks do is search for any backups on your system and either encrypt or even delete them?
The reason why is obvious, your backup is your primary line of defense and without it, bad actors can and will take over your systems and lock you out of your own files. Your backup is the key.
When developing a backup plan, the one thing you must do is employ the 3-2-1 backup rule: create three copies of your data (one primary and two backups), store your copies in at least two different types of storage media—for example: a dedicated onsite solution and the cloud. The 3-2-1 backup rule safeguards your data against a range of threats and gives you the best chance for data retrieval and recovery.
If You Can't Retrieve Your Data, You're Not Protected Against Ransomware
A ransomware attack can only be successful if your data is irreplaceable. The inability to "lose" your data gives the cybercriminal power to demand a ransom. Do you believe your business can survive a ransomware attack?
Try this thought experiment, can you right now, as you're reading this, erase all your hard drives and be confident you can restore your data? If the answer is no, then you are not ready to face a ransomware attack and defend your business. If this crisis has taught us anything, it's that businesses need to plan for the worst.
Your Team is Your Frontline Defense Against Malware
While a backup and recovery plan will allow you to resolve a ransomware attack, the best defense is never being attacked in the first place. Bad actors don't just stumble into your network; chances are they gained access via phishing. In other words, one of your team members was fooled and clicked on a link, shared a password, or downloaded a file that contained malware.
Phishing uses a technique called social engineering to gain the trust of your team and, in doing so, gain access to your network. One of the best practices you can adopt when developing security protocols is properly training your staff to avoid phishing attacks. When you encourage your team to recognize potential threats, you're effectively training them to protect your business.
Southern New England Businesses, Ransomware is Here to Stay
Cybersecurity threats are not going anywhere; in fact, it is fair to say they will be increasing as more organizations develop their digital footprint in response to the current crisis. However, Massachusetts businesses don't have to be afraid to invest in technology, and you certainly won't have to go it alone; not with Datalyst on your side.
Southern New England's IT specialists, Datalyst, have the expertise to develop a backup and disaster recovery plan (BDR) for your business, giving you the confidence to embrace technology without fear and continue to grow your business regardless of what the future may bring. Call (774) 213-9701 today to schedule an appointment.
Comment for this post has been locked by admin.
By accepting you will be accessing a service provided by a third-party external to https://www.datalyst.net/