The 2022 Cybersecurity Plan for Massachusetts Small Businesses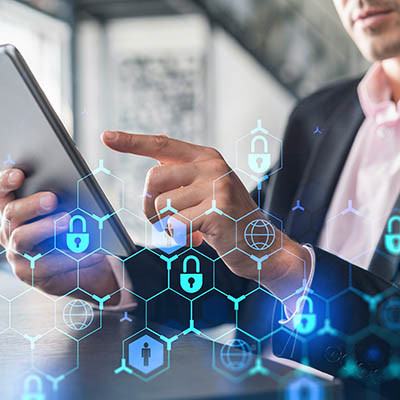 Massachusetts has taken the lead in the United States in terms of cybersecurity regulations, which in the long run, will hopefully aid to protect businesses and consumers from the Bay State. Let's review what your cybersecurity needs to look like as we progress into 2022.
Let's begin by predicting some of the trends that are likely to turn up this year.
Cybersecurity Trends to Anticipate in 2022
Looking back at recent events, there are some definite signs we can see that suggest how businesses should approach their cybersecurity awareness.
Increased User Awareness Efforts
Your users are ultimately your strongest defense unless they act as your greatest weakness. If your team members aren't aware of the threats they face, they are going to be more susceptible to these threats. Ensuring that your team members know about the efforts that cybercriminals will take and are ready to deal with them (more on that later) will therefore be a priority for the wise business.
For example, phishing attacks are on the rise (we're going to mention this later). Educating your staff on how to identify a phishing attack, and how to avoid clicking on a bad link is a good step in preventing threats.
For example, helping them understand how to tell if a link in an email is actually going to where they think it's going, is critical. How many of your team members would just click through any of these links if they appeared in an email?
paypal.com - Safe
paypal.com/activatecard - Safe
business.paypal.com - Safe
business.paypal.com/retail - Safe
paypal.com.activatecard.net - Suspicious! (notice the dot immediately after Paypal's domain name)
paypal.com.activatecard.net/secure - Suspicious!
paypal.com/activatecard/tinyurl.com/retail - Suspicious! Don't trust dots after the domain!
There are a lot of other lessons like this that we can assist your team with. We cover a lot of this throughout our blog as well!
Healthcare-Focused Cyberattacks
With the recent overwhelming increase in demand for healthcare services, cybercriminals have seen their opportunity and taken it. This means that the industry has needed to deal with increased attacks while also trying to juggle remote work in some of their employees and severely increased patient numbers with others—not the ideal situation. This will not likely change anytime soon, which means security-focused preparations need to be taken.
Localized Phishing
Here's the thing—the more generic a phishing attack is, the easier it tends to be to spot. In light of this, it is no surprise that cybercriminals have begun to focus their efforts while they're phishing to make them more specific. This has the effect of making phishing attacks harder to spot, making them all the more challenging to keep from impacting your company.
Work From Home Issues
Finally, while working from home has quite literally saved a number of businesses over the last two years, it has also allowed a lot of threats to rise up as workers are out of the office without the protection and heightened awareness that your presence in the office provides. Much like the tide raises all ships, relaxed security standards make all threats more dangerous.
It's a good time to evaluate your employees and how they access the network. Is everyone doing it properly? Are there issues? Has anyone taken it upon themselves to perform any "workarounds?" The last thing you want is for your data to be outside of your realm of control, but you want your staff to be able to work effectively at the same time.
What Massachusetts Businesses Need to Do
In order to remain secure throughout 2022 and beyond, it is important that businesses of all shapes and sizes prepare themselves through a variety of means.
Cybersecurity Audit
You need to ensure that your technology is as protected as possible, which means you need to audit these protections so you can spot and resolve any vulnerabilities. Regularly going through this process will help you maintain your business' protections. You can start by reaching out for a free consultation—we love talking shop with other business owners in the area!
User Training
In order to make your users your greatest strength and not a weakness, as we discussed above, they will need to be trained so that they can judge when a threat may be present and respond appropriately when one does arise. Ensuring that your team receives this education with regular refreshers will do a lot to help protect your business.
Penetration Testing
You also need to have an idea of how vulnerable your network is to attack, which makes the practice of penetration testing a valuable one to pick up. By having trustworthy professionals secretly try and breach your network to evaluate your business' preparedness in stopping such an attack that is actually malicious, you can identify and resolve the weaknesses they find.
Compliance Management
Finally, your business will need to uphold the demands of a variety of compliance requirements, at the risk of facing consequences and fines. This can be a challenge without a concerted effort, so you need to prioritize keeping up with any applicable regulations and laws, based on your industry.
Every Business Will Need to Take a Different Approach
Of course, different industries and even different organizations of different sizes will need to approach their data protection differently, based on the threats that are most pressing to them. In order to balance your own approach to data security and protection, you need a professional in your corner watching out for you.
That's where we come in. We can help you identify your business' current security shortcomings and vulnerabilities, as well as the ways that you can resolve them. Give us a call today at (774) 213-9701 to find out more about how we can help you improve.
Comment for this post has been locked by admin.
By accepting you will be accessing a service provided by a third-party external to https://www.datalyst.net/