Should I Just Get A New Computer?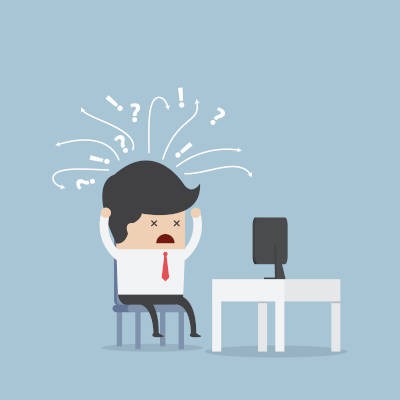 Working remotely brings with it a wide range of advantages and challenges, ranging from resisting distractions to feeling disconnected from the team due to working alone. Many team members working at home realize that their technology doesn't allow them to keep the same level of productivity they had in the office. While their computers may be powerful enough to surf and stream, they became the main bottlenecks to their productivity. Is now the time to replace, repair, or upgrade their computer?
In a previous blog, we discussed 3 warning signs your computer is on its last legs. In that blog, we explored three issues which can indicate it's time to replace your computer. These three issues were:
Recurring software problems
Malfunctioning or failing hardware
Loud parts or lacking performance
If your computer is suffering from these issues, then it may make sense to replace it. While it's true, you could hobble along with these problems if the computer was just being used for your personal use, the equation changes if you hope to be productive while working from home due to social distancing.
Should You Get a New Computer?
Before you decide to purchase a new computer, you first have to realize that--particularly during this crisis--a fully functioning computer is essential. It's an investment, and since remote working is here to stay for many people, investing in a reliable, secure home workstation is going to be par for the course. While there are tips you can use to get up and running, ultimately, the reality is, if your computer isn't up to the task, then you won't be able to get your work done.
Some business owners are budgeting desktops or laptops for their remote workforce, or offering stipends or allowances for an employee to upgrade their home office. Sometimes that might mean being able to upgrade to a secondary monitor to increase productivity, but it can also mean upgrading an older PC. For our clients, if they issue a company-owned computer for an employee to use at home, they add it to their agreement so we secure it, monitor it, run maintenance on it, and keep it running smoothly. If you are working from home, it's definitely worth asking your managers about your options before just making a purchase for yourself.
If your job doesn't offer anything like that, then it's down to you to make sure you have a reliable computer to work on.
Things To Consider Before You Make a Decision
How old is the computer? While there's no doubt that computers' reliability and longevity have increased, there comes a time when the machine will simply no longer be able to perform tasks as efficiently as they once did. Assuming for a moment that the issue isn't hardware related, an upgrade of the operating system or a reinstall of Windows (your data is backed up, the hard drive is wiped, formatted, and all your software and information is restored to a fresh install), may be enough for your computer to regain its past glory. However, it may also confirm that your current configuration may not be sufficient to run the current generation of software. In this case, you have two options, upgrade or replace your computer.
The average home PC should be able to get a few years of use. Higher-end PCs tend to last a little longer, but it really depends on what you are using it for. The average life of a typical office computer is about three years. If your PC is older than five years old, it might be getting to the point where reformatting it doesn't do a whole lot, and upgrading it might start to get more costly.
Repair, Replace, or Upgrade Your Computer?
When it comes to deciding whether to repair or upgrade your computer, doing either will usually be less expensive than buying a new one—however, the equation changes when you add additional factors such as cost, age, and upgradability. For example, if you're using a computer which came with Windows 7, the computer could be over a decade old. Additionally, Microsoft has stopped supporting Windows 7, leaving computers using Windows 7 at risk of compromise. Does it make sense to repair a ten-year-old computer whose operating system is obsolete? Probably not.
The next option is an upgrade; in this scenario, an upgrade may make sense if the cost to replace obsolete parts is at least less than 50% of the cost to buy a new computer. While at first blush, the minimum requirements to run Windows 10 (the current version of Windows) appear to be easily obtainable, in reality, merely adhering to the minimum requirements won't allow you to be productive… just frustrated. This will be particularly true if you've grown used to using the appropriate level of technology in your onsite office to complete your tasks. Now, you're using your personal computer, which is underpowered and out of date. The question is, what upgrades are worth it?
Some time-tested upgrade suggestions include:
Swapping from HDD to SSD (Solid State Drive): SSD speeds are up to 15 times faster than mechanical drives (HDD). Add in a higher level of stability, and an SSD can be one of the best "bang-for-your-buck" upgrade choices you can make.
Increasing the amount of RAM: More RAM equals the ability to have multiple programs running simultaneously while still being able to work productively. If your RAM is too low, you will find that the more applications or windows you have open, the slower your machine will become. This can harm productivity.
Adding a Graphics card: You don't have to spend hundreds of dollars on a graphics card to see a difference. There are many budget-priced graphic cards that will make your computer seem faster. Since your graphics card is doing all the graphic work, your CPU can focus on other tasks.
Let's do some quick "back of the napkin" calculations:
480GB SSD: $60
DDR4 8GB: $30
Budget graphic card: $50
*Keep in mind, these numbers are rounded, and may vary depending on the hardware that's already inside your computer, it's form-factor, and a lot of other considerations.
Based on these numbers, for about $140 plus a few hours of labor, you can upgrade your computer to a level that will allow you to run most programs and complete any task at an acceptable level, eliminating the bottleneck holding you back. Also, you don't have to make all upgrades at one time, ask your technician which would be the most effective upgrade and do that one first.
Finally, as a (very) basic computer can cost a few hundred dollars, it makes sense to make upgrades that may have better overall specs than a newer low budget computer. Many of which themselves may have limited upgrade paths, due to integrated electronics or proprietary software/hardware.
If you aren't sure about your current devices or want a professional opinion as to what your best option is, take a moment and schedule a free consultation. Reach out to Datalyst; our job is to ensure that businesses have the resources they need to effectively continue to operate during this crisis and in the future.
The Final Word On Computer Repair
The ultimate goal of repairing, replacing, or upgrading your computer is to reduce downtime and keep you productive. Datalyst understands remaining productive is critical and a well-performing computer is crucial to that goal. Datalyst provides break-fix support to all types of computer systems. As New England's dedicated computer repair company, we also offer flat-rate managed IT support, which can provide the kind of IT support your business needs.
Get your IT up and running productively. For more information about the top computer repair service in the Southern New England area, contact us at (774) 213-9701.