3 Warning Signs That Your Computer Is on Its Last Legs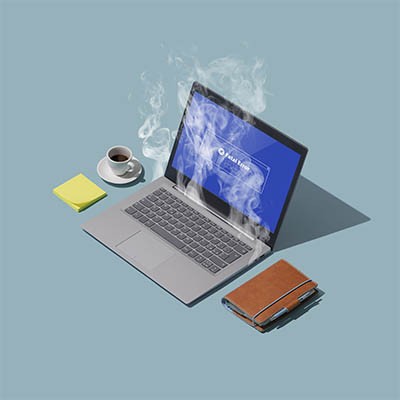 It is no secret that a computer that doesn't seem to want to behave (or seems to experience constant issues) is something that most people just want to replace, no questions asked. However, by nature of how computing devices are put together, it is entirely possible that your device could simply be in need of a (much less expensive) repair.
Here, we'll review some of the issues your device may be exhibiting, and discuss what could potentially be causing them. First, however, we need to address the first step you should take - just to be safe.
Take a Backup at the First Sign of Trouble
The moment you suspect that something may be wrong with your device's hardware, you need to make a point of taking a backup, double and triple-checking that your data is redundantly saved. Ideally, at least three copies, saved in at least two locations, one of which is located offsite. This way, should something go terribly wrong with your equipment before you can solve the problem, you won't lose everything, you can prevent data loss with a BDR plan in place.
This is purely a means of mitigating a worst-case scenario and is really a best practice that you should be following every day as there are a variety of situations where a backup can prove useful. In fact, a backup and disaster recovery plan can keep you from losing it all.
Once you have done so, you are ready for some basic diagnostics.
Issue 1: Recurring Software Problems
This is one of the surest signs that there is an issue, as long as a few conditions are met. First off, you need to consider how many software titles are experiencing repeated problems. If it is just one title, in particular, the problem is probably with the software, not your device. One area to consider is your operating system, for example despite being discontinued, Windows 7 is still being used by a large number of organizations. Simply put, it's time to upgrade away from Windows 7. However, if multiple programs are behaving oddly--crashing, glitching out, or freezing--there could be a much more serious problem at play with the software that supports your computer.
This is when it is time to try reformatting the hard disk and reinstalling the operating system (which is exactly the kind of situation in which it helps to have a data backup at the ready). Most software issues would be resolved by this, so if your issues persist, you likely have an issue with the hardware that actually makes up the device.
Issue 2: Malfunctioning or Failing Hardware
As your computer is made up of many different parts, any of them could potentially fail… and depending on which part it is that does, you could be facing a relatively simple replacement of a certain component, or the replacement of the entire device.
For example, issues with dead pixels on the screen of your device or an unresponsive touchpad are times when it's just more economical to replace or repair the part, whereas an issue with the motherboard (which would mean replacing a litany of other components, like your RAM, the CPU…) might make it more worth your while to just replace the entire device. In these situations, it is likely better to turn to an expert for their professional opinion. For example, with Hardware as a Service, you turn your computers into a budgetable operating expense, and with a managed IT solution, you are never caught off-guard with an expense.
Issue 3: Loud Parts or Lacking Performance
While computers don't have wrinkles, they certainly show their age in other ways. Devices that haven't been maintained well or are getting long in the metaphorical tooth can become noisy, hard drives clicking and grinding or fans running on full speed, effectively all the time. These are signs that something isn't quite right in your computer, and that this something needs to be resolved before the part making the noise fails entirely.
A slower computer can also be a sign that your computer has outlived its productivity, but it could also indicate the need for some maintenance. Before taking any drastic measures, try emptying some space on the device's hard drive and running a virus check to see if your computer's resources aren't being used pointlessly. If this doesn't help matters, it is likely time to replace the device.
A good rule of thumb to follow when deliberating between repairs or replacement: If your computer is too old to run updated software or your repairs will cost more than half of what a new device would cost, replace it.
If you still aren't sure about the state of your current devices, or just want a professional opinion as to what your best option is, reach out to Datalyst. We're New England's Dedicated Computer Repair Company. Our job is to ensure that businesses have the resources they need to effectively function. To find out more, give us a call at (774) 213-9701.
Comments
No comments made yet. Be the first to submit a comment