Protecting Construction Companies from Cyberattacks and other Online Threats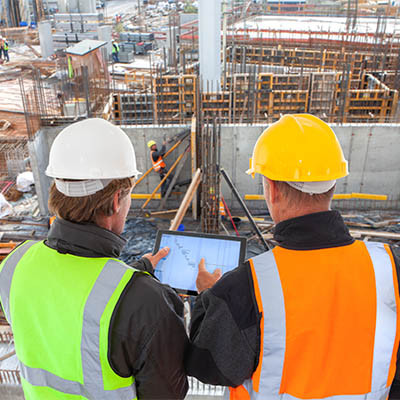 All industries today are susceptible to cyberattacks, but it's easy for certain types of businesses to feel they are the exception. Take construction for example. Many people wouldn't anticipate the construction industry to be a viable or worthwhile target for cybercriminals and hackers. Unfortunately, cybercriminals don't see it this way.
Let's go through some of the reasons that the construction industry is actually a valuable target for cybercriminal efforts and the best practices that it can use to protect its operations.
What Makes a Construction Company a Valuable Target for Cybercriminals?
There are plenty of reasons that a construction company would be specifically targeted by a cybercriminal seeking out as much of a return as they can get from their efforts. For instance:
Construction Companies are Connected to Many Other Businesses
Due to the nature of their operations, construction companies need to maintain close relationships with a variety of other businesses and industries, many of which carry a lot of value for cybercriminals. By infiltrating the construction company in question, a hacker could potentially gain access to these other companies as well. As such is it critical that businesses develop a series of access privileges to keep their critical information separate from what they need to share. Personal information has value, so if you keep records and contact information of your clients and prospects (and you should), that might be something a criminal would like to get their hands on.
Construction Companies Need to Maintain Operations (Downtime is Critical)
With the strict timelines and budgets that the construction industry is beholden to, any lost time seriously becomes a major issue. As a result, it is understandable that threats like ransomware are of particular concern, and that a construction company might be more apt to try paying the ransom to return to business as usual… something we do not recommend.
Construction Companies, Like All Businesses, Have a Reputation to Maintain
Falling victim to any kind of cyberattack is a bad look for any business, construction companies included. The kind of negative press and shame that comes with becoming victimized can easily impact a business by making its prospects second-guess working with them, further encouraging the impacted business to pay the ransom. Massachusetts has one of the most comprehensive data protection laws in the country. So not only do you risk your organization's reputation, you risk your business' survival.
How Can a Construction Company Keep Itself Safe?
There are many steps that need to be undertaken by a construction company in order to minimize the risk of cyberthreats being successfully waged. Besides these three methods to fight cyberattacks, there are additional steps you can take. These include:
Maintaining a properly managed data backup, ideally subscribing to the 3-2-1 strategy.
Keeping resources on your network isolated and segmented from one another, make it more difficult for an attack to spread.
Requiring administrator permission before the software can be installed.
Adopting a business continuity plan to ensure that data recovery is possible.
Managing your patches and updates to shore up vulnerabilities.
Implementing multi-factor authentication (MFA) as a means of access control.
Keeping passwords updated and compliant with best practices.
Pruning unused and unneeded user accounts.
Implementing next-generation antivirus and endpoint protection solutions that have GAV, EDR, NDR, UEBA, and Deception technologies.
Training users to be able to spot and avoid threats as they come in.
Review your business insurance coverages to ensure that you have comprehensive cybersecurity policies in place.
We can assist you in implementing all of these protections, maintaining your construction company's network, and supporting your operations. Find out more by reaching out to us today at (774) 213-9701.
Comment for this post has been locked by admin.
By accepting you will be accessing a service provided by a third-party external to https://www.datalyst.net/