2FA Needs to be a Part of Every Massachusetts Business Cybersecurity Strategy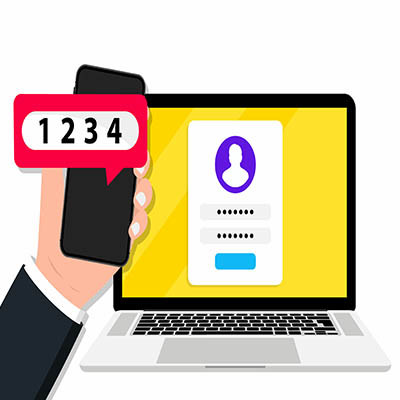 Many Massachusetts organizations have found themselves face-to-face with cyberattacks in the form of ransomware. While cyberattacks may seem inevitable, there are steps you can take to protect your business. Here is why 2FA is the one thing you can implement to reduce the chances of a data breach.
Massachusetts Businesses - Do You Have a Cybersecurity Plan?
It's been suggested that up to 91% of data breaches are due to emails being compromised by cybercriminals, and Massachusetts businesses haven't been exempt from attack. More often than not, these attacks start out as phishing email attacks.
Phishing is a tactic in which a cybercriminal contacts a team member with an official-looking email. This email is designed to fool your team members into sharing sensitive information such as passwords. In some cases, the cybercriminal uses the opportunity and plants a malware into your system via a compromised link or attachment. These emails might look like they are coming from a third-party service like Paypal, Amazon, Google, or Facebook, or a vendor or partner you do business with. Sometimes, the email could even look like it's coming from someone within the organization, urgently requesting sensitive information or access to money.
Regardless of the method used, the goal of phishing is to gain the confidence of your team, so they will share enough information to compromise your data security. What this translates to is that the most significant gap in your security will be your employees.
When developing your cybersecurity plan, the first step is to ensure that your team understands how to identify these threats, and how to reduce the chances of being fooled. As noted, your team will always be the primary target of most cyberattacks, which means your cybersecurity plan must be designed to either support or compensate for the human factor. As you begin to develop your cybersecurity plan, one major line of defense you should take is to enact 2FA (Two-Factor Authentication).
Why 2FA is a Critical Cybersecurity Step
While 2FA is a minimum requirement for cybersecurity, it can be an incredibly effective tool to prevent unauthorized access in online accounts or on-prem software that holds sensitive data. When we review the ransomware attacks which made the news, more often than not, they were able to gain access to the accounts because of poor or even non-existent password management.
Examples of poor password management include:
Using the same password for multiple logins and accounts (once one account is compromised, then all are compromised)
Passwords that are easy to remember (and easy to hack)
Weak passwords (which are also easy to hack)
Not enforcing passwords to be cycled out over time
Once a cybercriminal gains access to your password, there's nothing to stop them from entering your system, unless you have 2FA enabled. 2FA is an effective deterrent because it requires more verification than just a password to gain access to your system. Here are some "do's and don'ts" of managing your passwords.
How Does 2FA Work?
2FA works by requiring access to at least two different types of identification. The process follows this pattern:
You enter your password (something you know).
Your 2FA is triggered.
You must either supply your smartphone or security key (something you have) or your biometrics such as a fingerprint reader (something you are).
It is this combination that makes 2FA an effective cybersecurity measure, as it is challenging for a cybercriminal to have access to either your smartphone or your fingerprints. While many consider 2FA to be the last hope for cybersecurity, we like to consider it the first line of defense.
When developing your cybersecurity plan, it is essential to remember that cybercriminals are no different than a mugger who waits in a dark alley. If they feel they will have to work too hard or have increased risk, they will look for an easier target. By embracing 2FA, you put a barrier between your team and your data. More often than not, that barrier will be enough to deter the average cybercriminal from proceeding further.
Cybersecurity is Essential for Your Business' Survival
As a Southern New England business ourselves, we are more than familiar with the challenges that face local businesses. This knowledge allows us to understand which types of attacks a cybercriminal will use to target Massachusetts businesses like yours. Our experience with local businesses' concerns makes Datalyst uniquely qualified to provide the technology to support your business needs, allowing you to continue to grow your business.
Datalyst has a wide range of security services designed to keep your data safe, not only from a bad actor but from any disaster which can place your data at risk. Call (774) 213-9701 today to learn more about cybersecurity and how managed IT can help break the technology bottleneck your business may find itself in.
Comment for this post has been locked by admin.
By accepting you will be accessing a service provided by a third-party external to https://www.datalyst.net/