What You Need to Know to Get Ready for a Remote School Year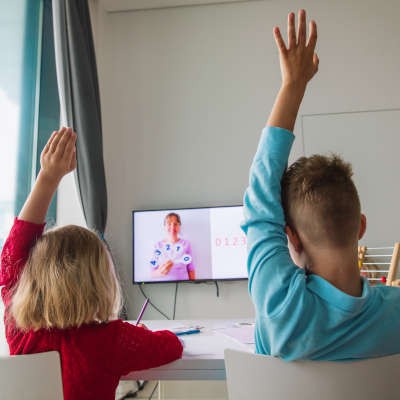 The new school year has begun in some parts of the country, and it has caused a stir. With Massachusetts and Rhode Island setting guidelines for the reopening of schools for the 2020-21 school year, it looks very possible that many students are going to be able to return to school in some capacity in September. Regardless if your child's school district opens or not, there are almost assuredly going to be times when he/she will be asked to use the computer to navigate their studies. Today, we'll try to help you out by taking a look at what you need to know to prepare for times when your child will need to go to school from home.
The Situation
The first thing you need to know is that most children, especially those in elementary school, do much better in a traditional, in-person learning environment. That's why everything is being done to get kids back to school. Recently, students went back to school in Georgia, and amongst the continuing pandemic, it has proven to be a major challenge. Here in Massachusetts (and in neighboring Rhode Island), education officials have committed to getting our children back to schools this fall, as long as certain criteria are met.
Unfortunately, the way this is going to happen is up in the air. Schools are a fundamental social system. They not only serve to educate children, provide them with opportunities to build social aptitude, and provide access to health and nutrition; they also allow parents to return to work without having to be concerned about being inundated by rising day care costs.
Most of the major outbreaks of COVID-19 have happened when large numbers of people gather indoors for a significant amount of time. As a result, it is going to be important for parents to get their children ready to be able to take advantage of online learning if the health crisis presents too much risk to public health. In response, many schools are preparing for flexibility to both support student (and community) health and scholastic development by finding solutions to the problems that the pandemic presents.
If children are forced into going to school online--as was the case at the end of the 2019-2020 school year--it will be important that parents have planned ahead for that eventuality. Let's take a look at some of the strategies and resources that will need to be considered ahead of this very challenging school year.
The Hybrid Approach Using Technology
Very few schools in the United States will get through the entirety of the 2020-2021 academic calendar without some type of remote learning. In fact, until there is a tested and effective vaccine for COVID-19, it's likely that schools and parents will need to continue to float the option of remote learning in order to provide communities with the peace of mind that student, teacher, and employee health won't be compromised.
So far we've seen responsible plans calling for a hybrid approach to education. This is where students are sent to school two-to-three days per week on a rotating schedule to ensure that social distancing is possible, while the other two-to-three days a week students will go to school remotely. Having time to plan, unlike when schools went dark in March, will have a huge effect on educators' ability to properly manage their classrooms.
Here are a few tips that will help you prepare for the upcoming school year.
Create and Maintain a Designated Learning Space - Much like workers who are working remotely because of the pandemic, having a dedicated space that is free from distractions has to be a priority for parents looking to educate their children at home. You will want to make it clear that this area is their desk, just like they have a desk at school. Outfit the area with things they would have in the classroom including a desk (if possible), notebooks, pencils, and any other items they would need (calculators, crayons, etc.). The more comfortable a student feels doing their school work from home the more they will get out of their time learning remotely.
Make Sure They Have the Technology - You will want to ensure that they have all the technology they will need to effectively learn from home. This includes a broadband Internet connection, Wi-Fi, and a computer or mobile device that can be used to connect with their teachers and classmates online. Some school districts will provide devices if one is unavailable.
Set Aside Time and Minimize Distractions - For those of you who have been working from home, you know all too well that there are a litany of distractions that can hinder productivity. For children and adolescents, those distractions can sink their ability to effectively complete assignments and learn material. You will want to make clear to your children that there is a definitive schedule that needs to be followed just as though they are in school.
Keep Open Communication - Often the most difficult part of remote education is that the school, the student's teacher, and the parents aren't on the same page. It is going to be crucial, if the hybrid method of education is going to be successful, that lines of communication remain open. This means that parents and teachers will have to communicate both with students, and with each other, to ensure that there is honest and constructive feedback. The last thing anyone wants is to have students fall behind because there is no continuity in their education.
Be Mindful of the Students' Mental Health - We're in uncharted waters here. We have the resources to make this system work, but with a lot of people having to juggle all the moving parts that the pandemic has laid at their doorsteps, it can be easy to forget about the most important variable: the students. Parents and teachers will want to frequently check in with a child's progress. Are assignments being done as needed? How are they reacting to the extra time at home? Many kids need structure, and if they don't get it at home, their ability to focus on their education may degrade quickly.
Education is always a team effort. The Massachusetts Department of Education has a lot of resources designed to help parents, teachers, and school administrators make education work regardless of the circumstances. Check out their COVID-19 teaching and learning information here. A lot of the weight of their children's education has been shifted onto parents' shoulders this year, but with a solid plan, dynamic technology, and good communication, you can make this very different school year a success for the students in your home.