The Secret to Saving Time and Money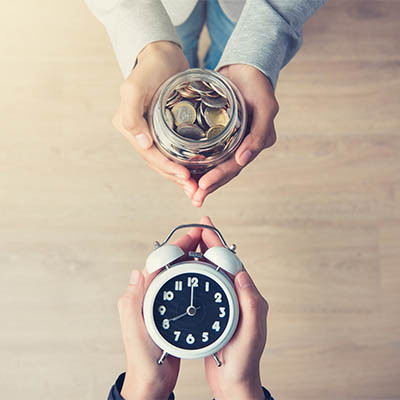 If you visit a McDonalds while traveling, generally the burger is exactly the same as your local McDonalds. It uses the same ingredients, and it is prepared the same way. The entire process is locked down to the most minute detail. This means that, with ideally little-to-no exception, every customer's McDonalds experience is the same no matter what. Say what you will about fast food, this is a model that works. We do something very similar, and we've been helping our clients adopt it too.
The key is to automate. At the turn of the 20th century, Ford Motor Company used automation to produce the Model T as efficiently as possible. In fact, the original process took only 84 steps, and it only took about 90 minutes for each car to be constructed. Each step was performed by one person doing a singular job, so training was extremely simple.
Establish a process that works, keep things simple, and optimize it when you can. This isn't anything new, but modern technology has certainly made it even easier to do.
Today, you don't need a line of 84 workers to automate a task. Instead, technology can handle the majority of automation processes. The results can lead to less effort, more product, more consistent product, and less time and money spent to accomplish a task. It's something virtually any business (or even any individual) can use to streamline some aspect of what they do.
What Benefits Does Automation Offer Southern New England Business?
Automation, or automated solutions, can serve a variety of purposes that would otherwise take up a lot of your and your employees' time. We make use of it to help us serve our clients better.
Rather than deploying software onto your infrastructure piece-by-piece, we create computer scripts (lists of commands) that we can apply to your business' IT infrastructure. These scripts can then carry out processes that would otherwise require human interaction. This simple shift creates some significant benefits for a business thanks to the reduced time and labor involved.
Let's say that "Bill" is responsible for installing a new piece of software on fifty computers in a business. Consider how long it would take for Bill to complete this task if he had to go through the installation process on each machine, one by one. By running a script, Bill's installation process could be sped up drastically… and in addition to this, it becomes far simpler to ensure that the software is configured the same way across all devices.
This uniformity helps to prevent items from being missed. It also benefits you by freeing up our time considerably, enabling us to focus on other, more pressing issues.
Finally, this kind of speed allows us to minimize any downtime that our support activities may have incurred, allowing your team members to get back down to business. Downtime is, in a word, expensive. The more efficiently we can fulfill your business' required support, the less downtime you'll experience as a result of it.
How Can Different Industries Benefit from Automated IT Support?
Various industries to be found here in Massachusetts could see some significant benefits from the implementation of automated IT support services, such as:
Medical Providers
Medical providers have a lot of data on the line. Not only is the safety and comfort of their patients at stake in a very real way, their personally identifiable information is at risk. Avoiding these risks and their ramifications is crucial, and can be made much simpler through automation.
Construction and Architecture
Those responsible for designing and creating buildings are held to exceptionally tight deadlines, and any delays can be potentially crippling. Automating some of the processes involved can help avoid these costs. This is why IT for manufacturers is an essential part of any organization which works in this field.
Lawyers and Accountants
In the office environment, minor issues can make it difficult for you to succeed. However, if these issues are attended to and your solutions are maintained, your focus can be more effectively directed toward your business and the clients you serve. Lawyers and accountants are unique industries in that their responsibilities to maintaining and managing the data they collect, don't end when their project is completed. These industries must often follow strict rules governing how and how long they maintain the data of their clients and as such benefit from sophisticated data management systems.
We are here to provide you with the automated IT support and services that your business needs to excel. Give us a call at (774) 213-9701 to learn more about the benefits that come from IT.
Comment for this post has been locked by admin.
By accepting you will be accessing a service provided by a third-party external to https://www.datalyst.net/