If You're Not Monitoring Your Server, You're Looking For Trouble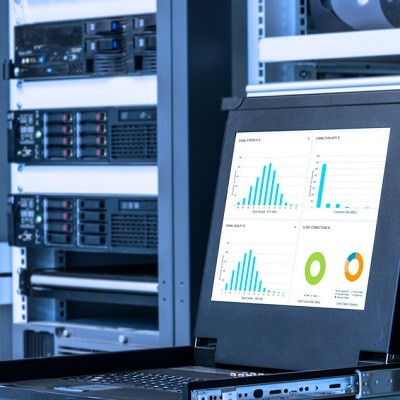 The only thing worse than a disaster is a disaster that occurs after hours. The longer the event is allowed to run unchecked, the greater the damage could be. In your server room, a minor issue can quickly escalate into a problem that halts productivity, destroys data, or makes critical systems unaccessible. This is why environmental monitoring is critical to maintaining your business's data and ability to serve your customers.
Whether your business operates during the cold winters of Worthington or the hot summers in Taunton, the one temperature all Massachusetts businesses need to be concerned about is the one inside their server closet. The one basic rule of server maintenance is to ensure the environment around your server remains at the optimal temperature for its operation.
Server Temperatures and Other Threats
While heat can be considered the number one enemy to your server's survival, so can water, humidity, and excessive dust. Anything which jeopardizes the stability of your server needs to be accounted and planned for. The best way to keep your server stable and data safe is to have it under your control at all times; you need to know what is going on behind closed doors, particularly when you're not in the office.
When computing equipment gets too hot, it starts to underperform and even physically wears down. Active servers can dish out a lot of heat, which they disperse with arrays of internal fans. If that heat gets trapped in an unventilated server room or networking closet, the internal fans will do little to actually cool the internal components.
Why is Server Monitoring Important?
Trends show that at least 30% of data loss due to server issues will be because of environmental factors such as high temperatures and humidity. To prevent this from occurring, you need to ensure your server room's environment remains stable.
If it is estimated that 75% of businesses don't monitor the environmental conditions of their server rooms; the question to ask yourself is do you want to be part of those in the dark or the ones in the know? Is your business the type who monitors their server room and can react in real-time to events, or are you the one who puts a fan in the window and closes the door and goes home, hoping for the best? Which business do you think will survive a long weekend?
Will Your Business Survive Data Loss?
If you're in the second category, keep in mind there's another statistic: 70% of organizations who lose their data go out of business. Can your business, your team, and your customers afford for you to hope for the best? Now's the time to invest in the systems to ensure the stability of your server, and your business. Additionally, consider a disaster and backup recovery (BDR) solution. A BDR solution will add an extra layer of protection against a wide range of disasters, should your business encounter one.
Server Maintenance 101
To get you started, here are four things you should be monitoring besides the basic system/device failure that can affect your server room's operation:
Ambient Room Temperature
The ambient room temperature should be between 64° to 80°F, with relative humidity between 40%-60%. Some MSPs only monitor the temperatures of the server rack, however that is not best practice. Best practices must include the ambient room temperature as part of its equation. This combined data gives you a more accurate impression of the overall temperature.
Temperature Mismeasurement
Conversely, only relying on ambient room temperature, and not including rack temps, can be setting your servers up for failure due to heat, as racks generate temperatures higher than the ambient room temperature is. This means that by the time the ambient room temperature reflects the heat being produced by the servers, there is a real possibility your servers and equipment have been operating at those temperatures too long, significantly increasing the risk of equipment failure. Temperature measurement needs a holistic approach, one which understands and treats the server environment as part of a bigger eco-system.
Water
Unsurprisingly, water can be the biggest threat to your servers, as it will always find a way into a room if there's a way to be found. More often than not, your air conditioner may be the main culprit and if left unchecked can do more damage than you would expect. For example, is there condensation on the unit? If so, what are you doing to mitigate the water? Where is it going, and who's responsible for ensuring the 'water bucket' is emptied?
Best practices recommend monitoring the area below the air conditioning unit, as well as the area around your server racks for water intrusion. Finally, your business wouldn't be the first to discover an unknown water pipe above their office has sprung a leak and is dropping water into your room. With monitoring in place, the unknown and unexpected doesn't have to be a catastrophic event.
Security
When we think about securing our server room, this isn't necessary for protection against data or hardware theft, although that is always a concern. Instead, we are concerned with unauthorized access and accidental damage, such as wires being kicked loose or food and drink entering the room. In theory, your server room should be physically secured to limit access to a select few, but in practice, as anyone who has worked in an office knows, your team for better or worse always finds its way into a locked room.
Since you may not be able to keep your server room as secure as you would like, you should at least know when someone enters the room. Some ways to monitor physical entry into your server room include door sensors, motion detection and finally security cameras to capture who or whatever (a nest of mice can do a lot of damage) enters the room. By documenting the events of the unauthorized entries, you are better positioned to set up policies that will help your server room remain secure.
Finally, the most significant factor for success is determining how well your organization is prepared to respond to an event before it happens. All the bells and whistles won't matter without the correct team and policies in place to react quickly to solve the problem.
Datalyst offers a wide range of server solutions such as our Server Migration, Professional Server Support and other services designed to help your team perform with best practices in mind. Call today at (774) 213-9701 for more information about maintaining your server using our Infrastructure Support Services or contact us today.