Break-Fix or Managed IT: Getting Your Computer Repaired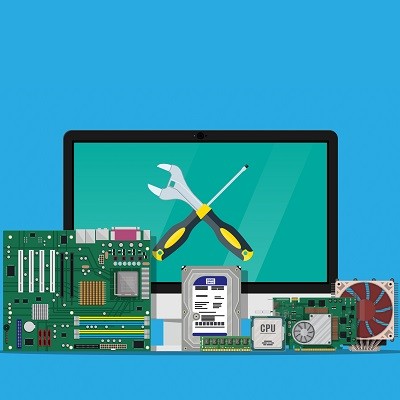 When businesses search for computer repair options, they are presented with two models: the traditional break-fix model, and managed IT services. Each has its advantages and disadvantages. Let's take a moment to examine them and help you decide which is best for your business.
So You've Got a Computer Issue...
Let's say your work computer starts acting really slow or starts crashing on you, but your regular computer repair person isn't available. What's the first thing many businesses do when their technology begins to have issues? They do a Google search for computer repair, and hope for the best.
It doesn't have to be that way. We want to take a moment to discuss with you what your options are to get their computer repaired or their data secured. Basically, you have two options to get your computer fixed: break-fix or managed IT.
Just call us at (774) 213-9701 to take advantage of this offer, and mention this blog post.
Top 6 Differences Between Break-Fix and Managed IT
1. Levels of Worry About Your IT
One of the main differences between the two options is who has the responsibility to maintain your technology. With a break-fix model, the burden is on you, the business owner, to make sure you have the resources to pay for unexpected IT issues and the knowledge to know when an issue requires outside remedies. Waiting too long to address an IT issue can be as costly as paying for evaluations for issues that didn't require intervention. There isn't a business in Lakeville that isn't at some level of risk of having technology failing when they need it the most.
When you rely on the break-fix model, your business waits for something to break. Then you call a technician to come and fix it. You pay for the parts and labor and the hidden costs of downtime and stress.
On the other hand, with managed IT, you pay a fixed fee to have your systems monitored to ensure your computers don't break down. This is done to ensure that your technology continues to be in good working order. Ongoing maintenance helps prevent the majority of surprise issues. With managed IT, your IT provider worries about your technology, while you can focus on your business.
A managed IT agreement shifts the burden primarily to the managed service provider (MSP), who - as per their agreement - must ensure their client's systems have as few issues as possible.
2. Control Over Your Technology
If your business depends on technology, then using break-fix as technical support can be an expensive gamble.
In today's competitive marketplace, technology must be treated as part of a business' investment to increase productivity and remain competitive. Technology is constantly moving; the question is, will your business be able to keep up? Break-fix may not be the best method to do so.
While handing over the reins to your technology to an outsider may at first feel like ceding control, the reality is that with managed IT, you're taking control of your business' survival by developing a long-term plan for the future. A managed IT plan would typically prepare you for planned obsolescence to ensure that your technology isn't at a bottleneck due to age, wear-and-tear, and other issues which could cause it to fail unexpectedly. Plus, a good managed service provider should be helping you budget for these future expenses. At Datalyst, we treat our clients' businesses like our own and put a lot of time and effort into documenting and optimizing your network.
3. Reactive vs. Proactive IT and Computer Support
Break-fix is a reactive model. As such, by the time you react, what could have been a simple fix may have grown to such an extent that extreme and expensive remedies are required. This downtime leaves you with no choice but to play catch-up. While you're catching up, your technology and your team aren't working, productivity is down, and your competitors are pulling ahead.
In contrast, managed IT provides proactive IT support; monitoring for issues that can cause instability. By providing ongoing maintenance, automatic updates, and patches, your managed service provider (MSP), ensures your technology operates as expected. Managed IT allows your business to be ahead of any issues which can reduce your effectiveness. With a managed IT agreement, you don't have to worry about getting your computer repaired because it never reaches that point.
4. Getting Ongoing Tech Support
With break-fix, you never know who or what level of service you're going to receive. One day it will be Tommy who repaired your computer, the next time it's James who may have a dramatically different idea of what's wrong. This isn't deliberate by the break-fix company, it's just the way it is when you don't have a comprehensive maintenance plan in place. Plus, maybe Tommy didn't do a very good job documenting the issue or the fix, leaving you to pay James to redo some of that work to guess what the cause of your issue is.
Since you're never going to know when you're going to have an issue, there's no way to coordinate technician's schedules. If your computer begins having issues while Tommy is on vacation, then you will have to settle for James and hope for the best.
You shouldn't run your business hoping for the best. Managed IT provides consistent levels of support because it's based on understanding your business' technology's unique infrastructure and developing a plan to support it. What makes managed IT so reliable is that it is not dependent on the skill of a single technician but has systems in place to ensure the stability of your technology and the level of support you will receive. The certainty of working with an MSP is that your technology will become system dependent and not person dependent.
5. Long Term vs. Short Term
As noted, with the break-fix model, your business waits for something to break. The reality is, you hope nothing breaks. The break-fix option allows businesses to feel like they've saved money on IT because nothing broke that month and they didn't have to spend any money; you've hit the IT jackpot if nothing failed during the year. The problem is that luck always runs out and when your technology fails, it probably won't fail when it is convenient; it will usually fail when you can least afford it to.
The one thing that separates a successful business from a struggling one is the ability to form and then implement a plan which details what the business will 'look' like sometime in the future. This why managed IT goes beyond the immediate need to fix your computer, but strives to prevent your computer from needing to be repaired in the future. An MSP is as much concerned about why your computer failed as they are getting it repaired. Understanding the 'why' will prevent it from happening again.
The break-fix computer repair shops are solely focused on the here and now. Your computer is broken? Sure they'll fix it, but will they explore the reason why it failed in the first place? Break-fix worries about how; not why. Technology is constantly moving; focusing on the now is a sure way for your business to be left behind. Managed IT is always looking forward and has a plan to use your technology to get your business there.
6. In the End, it Comes Down to Cost
Managing your business' expenses is critical to your business being successful. When you utilize the break-fix model to maintain your technology and to repair your computer, there is no limit as to the amount it could cost you to get your systems back online. In many instances, break-fix can be an open-ended expense which you can't budget for, especially if the technicians have to make multiple trips to your business over time.
When you use break-fix as your computer repair solution, you pay for the initial consultation, any repairs made, and hourly labor. Moreover, it is simply impossible to know what your call to an IT tech will cost you until you get the bill. Concern over the cost of computer repair is an understandable reason why so many businesses delay calling tech support when something goes wrong, which in turn can make matters worse. For example, an initial malware attack can quickly spread across your network, putting your client's data at risk if not addressed quickly and decisively.
Managed IT offers a fixed cost 'subscription' to monitor and maintain your technology, ensuring it operates at optimal levels. This monthly fee allows your business to predict how much it will cost them to maintain your technology. This not only offers peace of mind, but also the knowledge that your systems will always be taken care of. If your computer needs repair, it would be covered under your agreement. No surprises or unexpected costs. In the case of a malware attack, your MSP would have already placed safeguards to prevent malware from even affecting one computer, let alone your entire infrastructure.
Datalyst Can Take the Role of Your IT Department
Whether you choose the break-fix model or Managed IT, as a fellow business owner, we encourage you to take the time to evaluate your business needs and goals. Datalyst offers a free consultation which can help you determine your business needs.
Datalyst partners with small-to-medium businesses to manage their organizations' IT systems and long-term technology objectives. We help clients solve business problems, achieve strategic goals, and reduce technology costs with a proactive, preventative approach to IT management. Datalyst helps you focus on your business and not your IT. Call us at (774) 213-9701 today to learn more.