What Does Comprehensive IT Support Mean?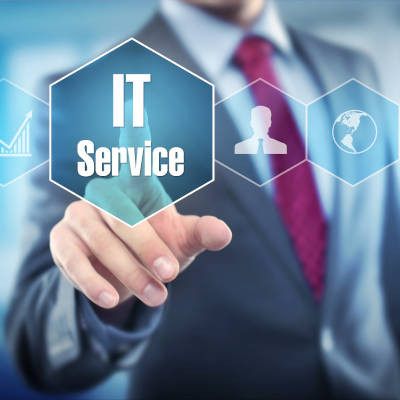 Is your business going from crisis to crisis? Are you unsure if your technology will help or hurt your business prospects today? How about tomorrow? It doesn't have to be this way. When your business invests in comprehensive IT support, the technology you rely upon will be managed and maintained. Ultimately, fewer issues translate to greater uptime and productivity. Take a moment to learn why it is time for your business to invest in comprehensive IT support.
What is Comprehensive IT Support?
Comprehensive IT support is the process in which a Managed Service Provider combines a variety of services in one unified plan. This plan is designed to provide your business with the tools, techniques, and expertise needed to ensure your success, particularly during these unstable times. Datalyst's goal of offering comprehensive IT support to Southern New England businesses is to take what can seem to be unrelated services and solutions and develop a unified solution to your technology concerns.
Look at it like this—your business really relies on a whole lot of different moving parts in order to function properly. You have computers, servers, software, and mobile devices all working in tandem. You probably rely on phone and Internet services to communicate. You rely on your website and email to drive prospects to you. A lot of gears are spinning to keep the machine running.
When certain parts of your overall "machine" stop working, it can affect everything else. That's why we take a 360 degree approach to technology. We take a holistic view, prioritizing mission critical technologies.
Why is Comprehensive IT Support Important?
As businesses continue to face the challenges of conducting business in the post-coronavirus world, now, more than ever, they depend on their technology to function. As many businesses are enacting social distancing, many of your employees work remotely, causing your business to reevaluate its operations. Moreover, with the increasing instances of cyberattacks, most notably ransomware, your competitiveness and survival depend on your technology working smoothly.
With comprehensive IT, issues affecting your technology are treated holistically as opposed to individual problems. For example, treating a ransomware attack as an isolated incident will open your business up for additional attacks. Comprehensive IT solutions would also include a BDR plan (backup and disaster recovery), team training to recognize a phishing attempt, and a robust security protocol to prevent the attacks from gaining a foothold.
Unfortunately, many Southern New England SMBs only think about their technology when it breaks and often consider using the break-fix method to maintain their technology. Unfortunately, when it comes to the technology which runs your business, the break-fix method is usually only a temporary fit. For an SMB, break/fix is akin to putting a bandage on an injury, which requires more substantial treatment in reality.
What is Comprehensive IT Support Comprised Of?
While comprehensive IT support can include a wide range of services, at Datalyst, we like to focus on three areas of service: Managed IT, IT Security Services, and Business Continuity. These services will make the backbone of any successful comprehensive IT support plan. Investing in them allows you to spend more time growing your business instead of worrying about the technology that supports it. Here's a brief description of these services:
Managed IT (Also Known As Monthly Flat-Rate Support) and Other Solutions
By preventing the downtime and unexpected expenses that come from hardware and software failures, comprehensive IT support allows your business to remain productive without interruption. When you outsource your IT to Datalyst, you always have available 24/7 services and solutions to your business. Managed IT's flat-rate model pays for itself in uptime and peace of mind.
The benefits of a flat-rate service plan are that it delivers enterprise-level IT support and tailored solutions allowing your organization to reduce technology-induced pain points, all at a price you can afford. Some examples of managed services include:
Finally, Managed IT means you can budget your IT as a planned line item instead of an unexpected expense. Managed IT is an effective solution because it minimizes issues and predicts potential problems before they disrupt your business and cost you money.
IT Security Services
According to the Joint Cyber Security Advisors, ransomware attacks are on the increase for healthcare organizations. Unfortunately, it is also predicted that ransomware attacks will spread beyond the healthcare industry and into all sectors, including businesses in Southern New England. Like most malware attacks, ransomware relies on human error; someone on your team opening an infected email, downloading an unauthorized program (shadow IT), or responding to a phishing attempt.
IT security aims to develop a series of protocols designed to keep your data and systems secured, reducing opportunities for hackers to be successful. Some of these services include:
Network Security: A critical part of comprehensive IT support, the goal of network security is to keep intruders out of your network. Network security relies on a combination of services to provide an all-encompassing 24-hour support and monitoring solution. As bad actors are using phishing and other social engineering attacks to gain access to your systems, there are some security areas you should pay particular attention to. These areas include content filtering, spam protection and email encryption.
Staff Training: Many, if not most, business owners believe that an attack on their system will be due to hackers forcing their way into their system. The probability is, the attack will be due to a member of your team making a mistake. The recent rash of ransomware attacks has gained a foothold due to successful phishing attacks. Unfortunately, there is no real piece of technology to prevent your team from making a mistake. The best way to prevent your business from falling victim to a phishing attempt is to properly train your staff to avoid them.
Wireless Security: Now is the time to lock down your wireless network. As Massachusetts businesses continue to adapt to the variety of operating challenges due to the coronavirus, they rely more on connectivity, specifically Wi-Fi. The need to adhere to social distancing requirements pushed many businesses to spread out their on-site team members. The result of doing so may have a negative effect on their connectivity. This is of concern because unreliable connectivity is a primary contributor to Shadow IT.
The danger of Shadow IT is that, due to improperly configured hardware and software, cyberhackers can exploit weaknesses in your network security and, in doing so, infect your systems with ransomware. A wireless survey will help determine if you have developed any Wi-Fi 'blind spots' due to reconfiguring your office space to adhere to social distancing recommendations.
Business Continuity Plan
As we mentioned earlier, ransomware attacks are on the rise and Southern New England businesses are not immune. The only way to resist them is by having a backup of your data. Nothing else will work, including paying the ransom (Microsoft recommends against it). While it is true that most businesses consider business continuity related to an event such as an owner leaving the company, the reality is business continuity is a necessary step in allowing your business to continue to function, regardless of the cause of a disruption.
As cyberhackers increase their attacks on businesses, it is critical to consider that nearly 60% of businesses that lose their data quickly go out of business in six months. Comprehensive IT support has taken a new urgency during the current crisis as it offers data recovery as part of its core services. Developing a comprehensive backup and disaster recovery strategy is essential in ensuring your business can face and survive an unexpected event. Simply put, backup and disaster recovery can keep you from losing it all.
Some best practices for creating backups should include:
Use the 3-2-1 rule when making backups. You have should three copies of your data:

Two backups stored on different media types, for example, an external hard drive, and the cloud
One should be stored off-site (cloud or a secure data center).
Maintain current images of your systems in case everything needs to be rebuilt. While having an out-of-date backup is better than no backup at all, the restoration process will be easier the more current your backup is.
A business continuity plan means you never have to worry about something going wrong, whether man-made or not, and losing your business as a result. With BDR, your business will be able to weather any storm and get to the other side.
When is the Right Time to Invest in Comprehensive IT Support?
The right time to invest in comprehensive IT support is now.
With all the uncertainties affecting Southern New England businesses, don't wait another day to add stability to your organization with a comprehensive IT support agreement. Our 24/7 client support center means we're never out of reach and are always available to help you solve a problem, and our team of IT professionals will be able to give you advice quickly.
Don't face these challenging times alone! Call (774) 213-9701 today and schedule a consultation or audit. Learn more about managed IT and how a comprehensive IT service agreement can keep your technology running and your business profitable.
Comment for this post has been locked by admin.
By accepting you will be accessing a service provided by a third-party external to https://www.datalyst.net/