How the Cloud Supports HIPAA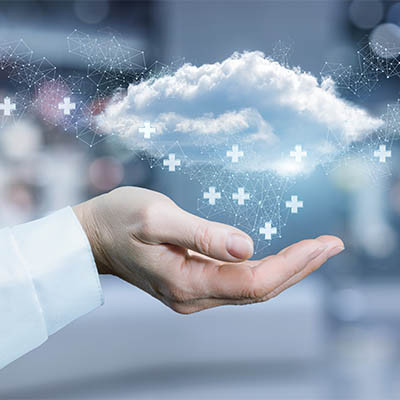 Is your healthcare organization fully invested in the cloud, using it to store data and increase productivity? The primary responsibility of a healthcare provider is to care for your patients, and that includes protecting your patients' data—especially when storing it electronically. Here are some ways to ensure you can use the cloud and remain HIPAA compliant.
What is HIPAA?
The Health Insurance Portability and Accountability Act (HIPAA) was created to guide healthcare providers during the early days of electronic data collection. HIPAA is the governing protocol for healthcare providers, directing how they manage patient information. HIPAA applies to health plans, healthcare agencies, and any healthcare provider that transmits patient information electronically.
While it is always best practice to protect your patients' data, HIPAA laws should be taken seriously because non-compliance can have powerful repercussions for your practice. Besides the embarrassment and loss of trust, your business also has significant financial risks if you allow your patients' data to be compromised. HIPAA violations can bring crippling penalties to organizations, ranging from fines from $100 per violation to $250,000 and up to 10 years imprisonment.
It should go without saying that not only is it your responsibility to ensure your patient data remains secure, but it is also crucial to your practice's long-term survival that you maintain HIPAA compliance.
How the Cloud Helps HIPAA
The cloud makes it easier and often more cost-effective to store, share, and back up data and documents. It allows for better collaboration, and often, better security since it leaves the security and management of the infrastructure up to the service provider.
The Department of Health and Human Services (HHS) recently updated their guidance on HIPAA & Cloud Computing recommendations. While the cloud brings a wealth of benefits to securing and storing data, doing so requires more than just uploading files to the cloud. Moreover, HIPAA regulations require more than standard cybersecurity practices when using the cloud to manage patient data.
Additionally, there's a difference between storing, sharing, and retrieving files from the cloud, running applications that store data in the cloud, and archiving your backups in the cloud. Choosing the correct type of cloud service to maintain patient data is critical to determining whether your practice is HIPAA compliant.
Cloud storage is designed for team and client communication and should be familiar to your team. Cloud solutions such as Dropbox, Azure, or Microsoft 365 can be relatively inexpensive ways for businesses to utilize the cloud for document sharing and collaboration, but when the wrong solution is used or implemented incorrectly, it can break compliance and cause a whole new layer of cybersecurity concerns. Healthcare organizations need to be extremely cautious where their data is being stored, and this includes educating the patient-facing office staff, nurses, and assistants who might utilize a cloud service they are familiar with in order to accomplish a task more effectively.
It's mostly a matter of checking to make sure that the cloud service you want to use is compliant with HIPAA, and that users aren't using their own personal accounts that they manage. Typically if a practice establishes its own cloud solution and provides the training on how to use it, it resolves the issue with the users, but regular audits will need to be done. It's actually a violation to start using a cloud without establishing an agreement that the cloud services are in fact HIPAA compliant.
HIPAA Certification is Your Responsibility
While cloud providers who offer HIPAA-compliant services are on the hook and hold some of the responsibility, it comes down to your practice to ensure that you are also following all of the applicable guidelines.
Everyone involved (the healthcare practice, and any service providers representing it) need to establish a business associate agreement (BAA) with the cloud service provider that guarantees their compliance to HIPAA requirements.
Even with your cloud storage provider offering a BAA, administrative and security controls, including data encryption, your healthcare organization may still not be HIPAA compliant. Despite the assurances of your cloud provider, they can go out of compliance, so ultimately, your organization is responsible for ensuring that you are compliant with HIPAA, not your vendor. The most effective method to do so is to work with a partner who can work hand-in-hand with you to provide a personalized data security plan for your practice.
Is Your Medical Facility HIPAA Compliant?
Despite all the information regarding HIPAA, there is still uncertainty surrounding what it takes to be compliant. For example, because some of the technology is Windows 7 native, many organizations are still using Windows 7 despite it being EOL (End of Life) since early 2020. This means that Windows 7 is no longer supported and isn't receiving updates from Microsoft. According to HIPAA regulations, any technology used for managing patient data must have an upgrade path. Ergo, Windows 7 is out of compliance with HIPAA and puts your patients' data at risk due to unpatched vulnerabilities, which occur when software is no longer updated.
The issue with Windows 7 is just one unexpected wrinkle healthcare providers face when maintaining HIPAA compliance. Additional areas of concern include team training, physical security, and administrative safeguards, among other issues. The best way to ensure HIPAA compliance is to develop a cybersecurity plan that incorporates all technology areas your organization uses into one comprehensive program.
Call the Massachusetts HIPAA Experts
We can ensure your practice is HIPAA compliant with our advanced security solutions. Not only can Datalyst help you precisely understand what HIPAA requires of you, but we can also implement the tools and technology you need to remain compliant. Call (774) 213-9701 today to schedule an appointment and learn how we can help.
Finally, if you're not fully compliant with HIPAA, you may not be compliant with the Data Protection Law For Massachusetts Businesses either. This is the perfect opportunity to examine your organization's cybersecurity protocols and develop goals and guidelines for your business and your team to keep your data secure. Call (774) 213-9701 today to learn more about cybersecurity and how managed IT can help your business increase productivity.
Comment for this post has been locked by admin.
By accepting you will be accessing a service provided by a third-party external to https://www.datalyst.net/