Datalyst Ranks 96 on the 2020 CRN® Fast Growth 150 List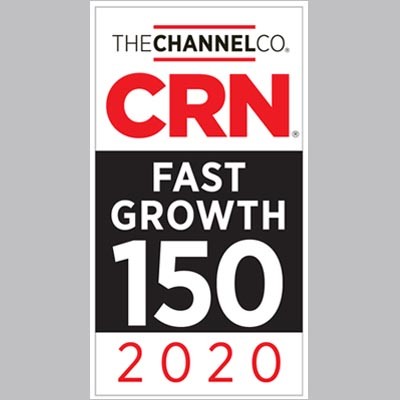 Datalyst is proud to announce that CRN®, a brand of The Channel Company®, has named Datalyst to its 2020 Fast Growth 150 list. Each year, CRN® recognizes the fastest-growing technology integrators, solution providers, and IT consultants across North America for the substantial growth and performance they've achieved over the previous two years. The elite group of companies named to this year's list have generated a combined total revenue of more than $37.8 billion between 2018 and 2019.
CRN® Recognizes the Top IT Channel Providers for Exceptional Growth and Performance
"Datalyst, as a whole, is proud of our growth and the excellent service we are able to provide our clients." said CEO Daniel Mathieu. "We hope that our clients and any who is interested in our services will see this recognition, and know that they are in good hands with us."
Today's solution providers vie for market share within the highly competitive, fast-paced IT channel, making sustained growth and profitability noteworthy achievements. Ranking within the top 150 requires companies to continuously evolve with the seismic shifts taking place within the marketplace. The 2020 Fast Growth 150 list recognizes these companies' extraordinary accomplishments and dedication to the IT channel.
"Evolution within the IT ecosystem is occurring at breakneck speed. The CRN® 2020 Fast Growth 150 list highlights the achievements of elite industry-leading companies in the IT channel and their ability to innovate in an ever-changing market," said Bob Skelley, CEO of The Channel Company®. "The extraordinary group of companies on this year's list serve as an inspiration, setting an exemplary level of excellence for us to follow. We are excited to honor these industry leaders and wish them continued success in the years to come."
Of course, we couldn't have done it without the continued support of our clients. Without your confidence in our services, we simply wouldn't be here today. So, while we're proud to share the news of our growth, we also want to give credit where credit is due and say thank you.
Hopefully we'll be able to continue this growth by only improving upon our services and solutions further for you down the line. Thank you again for your continued support, and as always, don't hesitate to reach out to us with any questions or inquiries you may have. To learn more about the whole of our services, make sure you check out the rest of our website, or again, give us a call at (774) 213-9701.