Datalyst Blog
Datalyst has been serving the Massachusetts area since 2010, providing IT Support such as technical helpdesk support, computer support and consulting to small and medium-sized businesses.
No Business Should Allow Public Access to their Wireless Network—Here's Why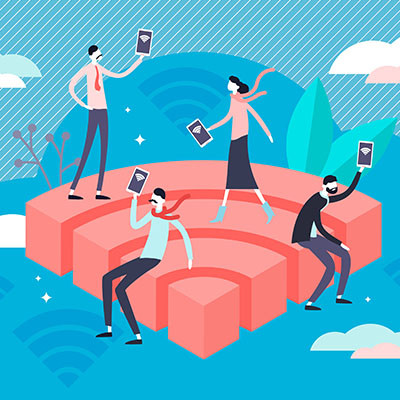 Look, we get it—we all like to be able to access the Internet at our leisure, so there's no doubt that your clients and customers will feel the same and will want a reliable connection as they're doing so. This much is true anywhere, from airports to restaurants to conference rooms.
However, you don't want just anyone accessing the same network that your staff uses. A lot of critical, sensitive information is moving back and forth on your office network, and opening your Wi-Fi up to the public means giving the public potential access to your data.
Let's run through how your Wi-Fi needs to be set up so your business' network remains safe.
Set Up a Guest Access Point
There are a few reasons why you want to separate the Wi-Fi you provide to others visiting your business and that which your employees rely on for their work devices. However, we want to focus on one in particular today: security by isolation.
Wi-Fi access could potentially give someone access to every other device on the network, if they had the know-how. As such, keeping the network you rely upon for your operations separate from that you provide to your guests isolates your business from this risk. A guest Wi-Fi network is a great way to do just that.
Regardless of whether or not you feel that you have anything to hide on your network (you do) or any data that a cybercriminal would find valuable enough to steal (you do), the fact of the matter is that your business is at risk of attack. An open and insecure network will just invite threats in. Plus, allowing your business' visitors to share the same network resources your employees need could very well serve as a detriment to your team's collective productivity.
In other words, allowing your business' working network to be accessed by those not working for your business is a bad call.
It's worth noting that most routers these days have some sort of built-in guest network functionality. That being said, not all routers are created equal. Cheaper consumer-grade routers and even some business routers might offer a guest network, but they may not totally isolate that guest network from the main network. It's definitely important to have your network infrastructure evaluated before relying on it.
How Else Can You Secure Your Business Network?
It is important that you do everything in your power to keep your business' network secure. There are a lot of steps you can (and with our help, should) take, but we wanted to highlight two of the simplest, but most crucial.
Prioritize Password Practices
One of the most important means you have of protecting access to your network, data, and other resources is to have sufficient authentication requirements. You need to be sure that all of your passwords remain in line with established best practices. We can help you with this as well, so make sure you reach out for our professional assistance.
Monitor Your Maintenance Needs
Your network's security is also dependent on how up-to-date your infrastructure is as a whole. Therefore, it is important that you devote the appropriate time to its upkeep and maintenance. This is something else we can help you to accomplish.
Give us a call at (774) 213-9701 to learn more about our network services.
Comment for this post has been locked by admin.
Comments
No comments made yet. Be the first to submit a comment